Hawkins County Humane Society's $400K ARPA request denied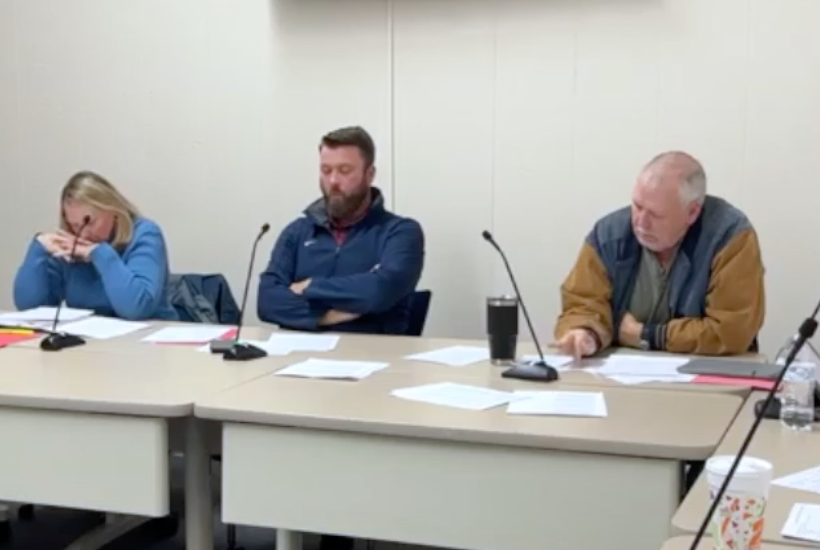 The Budget Committee voted last week to recommend several ARPA funding requests be considered for final approval by the County Commission in February, but the Hawkins County Humane Society's request was voted down.
The Hawkins County Humane Society (HCHS) had originally requested $800,000 to be drawn from Hawkins County's the $11 million awarded from the federal American Recovery Plan Act (ARPA).
The HCHS request was intended to build a new bigger animal shelter due to the current shelter almost always being filled beyond capacity.
Last month the Budget Committee asked organizations requesting ARPA funds to reduce their amounts to a "best case scenario" and a "worst case scenario" due to the total amount being requested surpassing the amount available by about $11.5 million.
As a result the HCHS returned a reduced request of $400,000, which was considered by the Budget Committee during its Jan. 17 meeting.
Commissioner Danny Alvis, who has served on the HCHS board of directors in the past, made the motion to grant the shelter's $400,000 ARPA request.
"They do an tremendous job," Alvis said. "They're an asset. There's only one Humane Society in the county. It is a good cause. I go down there and spend some time. All of us should go and look and volunteer a little bit. I think it will be money well spent."
County budget director Eric Buchanan cautioned the committee that the pre-COVID/inflation estimates for the Justice Center roof replacement that the commission already allocated $3.1 million in ARPA funds to pay for is likely low.
"We don't want to put half a roof on the Justice Center," County Mayor Mark DeWitte added. "We've got $3.1 million, but we don't know where that's going to land."
Budget Committee chairman Jason Roach noted that if the commission uses all of its ARPA funding "on these very worthy causes" they're going to have to use local tax revenue to fix issues with county owned facilities.
"For those of us on the committee right now, if we eat (ARPA funding) up for some of these (non-county agency) projects, you need to be mindful, when it comes time to fix some of these (county) projects, that we need to use local tax dollars on some of these projects and not rail against them when the time comes," Roach said. "What's going to happen is these (county) projects are going to continue to deteriorate and the price is going to continue to go up."
Commissioner Josh Gilliam noted that the HCHS provides a service for Hawkins County for an annual contribution of $30,000 that would cost hundreds of thousands of dollars if the county operated its own humane society.
Commissioner Robbie Palmer expressed opposition to the $400,000 contribution.
"I'm not saying they shouldn't get anything at all," Palmer said.
Commissioner John Gibson made a motion to suspend the vote on the HCHS allocation until the February Budget Committee to get more information about the project, but that motion died for a lack of a second.
The committee then voted down the HCHS allocation 3-4 with Alvis, Gilliam and Roach in favor and Palmer, Gibson, Tom Kern and Nancy Barker opposed. DeWitte noted that does't mean the HCHS allocation is dead. It just won't come before the commission at its Feb. 27 meeting.
ARPA funds remaining
At its Jan. 17 meeting the Budget Committee considered several other ARPA funding requests to be placed on the agenda of the Feb. 27 commission meeting for final approval.
Heading into that Budget Committee meeting the county commission had already committed the following ARPA funds:
$2 million for Hawkins County Schools CTE expansions at the three high schools.
$1.5 million to purchase turnout gear for all Hawkins County fire departments.
$3.1 million for Hawkins County buildings.
$90,000 to purchase vans for the VFW military funeral Honor Guards.
$60,000 for Stanley Valley Road fire hydrants.
$112,500 fro improvements at the two Health Department facilities.
$275,000 to pay ARPA allocation consultants Community Development Partners.
That leaves $3.892 million in unrestricted ARPA funding still to be allocated.
Newly recommended projects
The ARPA requests recommended on Jan. 19 for final approval at the Feb. 27 Commission meeting include:
Palmer's motion to allocate $370,000 to purchase equipment for road superintendent Danny Jones to make road repairs was approved 7-0. Jones said the funding would pay for salt spreaders for five trucks and equipment for repaving and patching including a paver and a roller, and a track hoe.
"When I was out campaigning I heard a lot of people talking abut our roads," Palmer said. "In my district the roads are getting to the point they need repairs. For years our previous road superintendent maintained his budget and turned money back in to get grant matches for major projects. We appreciate that, but I feel like our roads need to be addressed immediately. Danny has given us a number, $370,000, to get him a paver and roller. The longer we put this off, the longer we're going to have to wait to get our roads worked on. This is what our constituents are asking us to do. Fix our roads."
Included in Palmer's motion were additional vehicle purchases for property assessor Michael Gillespie ($80,000) and EMA director Jamie Miller ($75,000). Including the highway department funds, the total amount from that motion was $525,000.
The Budget Committee voted 5-2 to allocate $430,000 to cover the expansion of treated water service from Scott County, Va. into the Pink Hill Community to serve a potential of 52 customers along two miles of roadway.
Commissioner Charlie Thacker told the committee that the First Utility District indicated it couldn't install water to that community for less than $1.5 million.
"This is the only chance we'll ever have to get water because it's too far," Thacker said.
The Pink Hill project was approved 7-0
Assuming the Pink Hill, Highway Department, EMA and property assessor requests are approved by the full commission on Feb. 27, Buchanan said that will leave just shy of $2.4 million in the ARPA fund.
Sheriff's vehicles postponed
The HCSO originally asked for $1.4 million to replenish its entire fleet. When the committee asked agencies to revise their requests with lower figures the HCSO submitted $500,000.
Chief Deputy Tony Allen said number of vehicles they can purchase with $500,000 depend on what's available, which lately has been a limited selection. He estimated it would purchase about 30 vehicles, or "half of a fleet — maybe a little bit under half".
"When our budget comes around I'll be asking for the other half," Allen said. "Sheriff's gotta have it."
Allen added, "We've got cars with 300,000 miles on them. There's some days my bill comes in $20,000 for the month for repairs, and it's getting worse. A transmission goes out, we used to have to pay about $3,000. Now it's coming around $4,800."
County Buildings manager Sarah Davis said by next month she should have a more definite estimate on how much the Justice Center roof will actually cost above the approved $3.1 million ARPA allocation.
The Committee agreed to postpone action on the sheriff's vehicle ARPA allocation until the Justice Center roof cost is known.