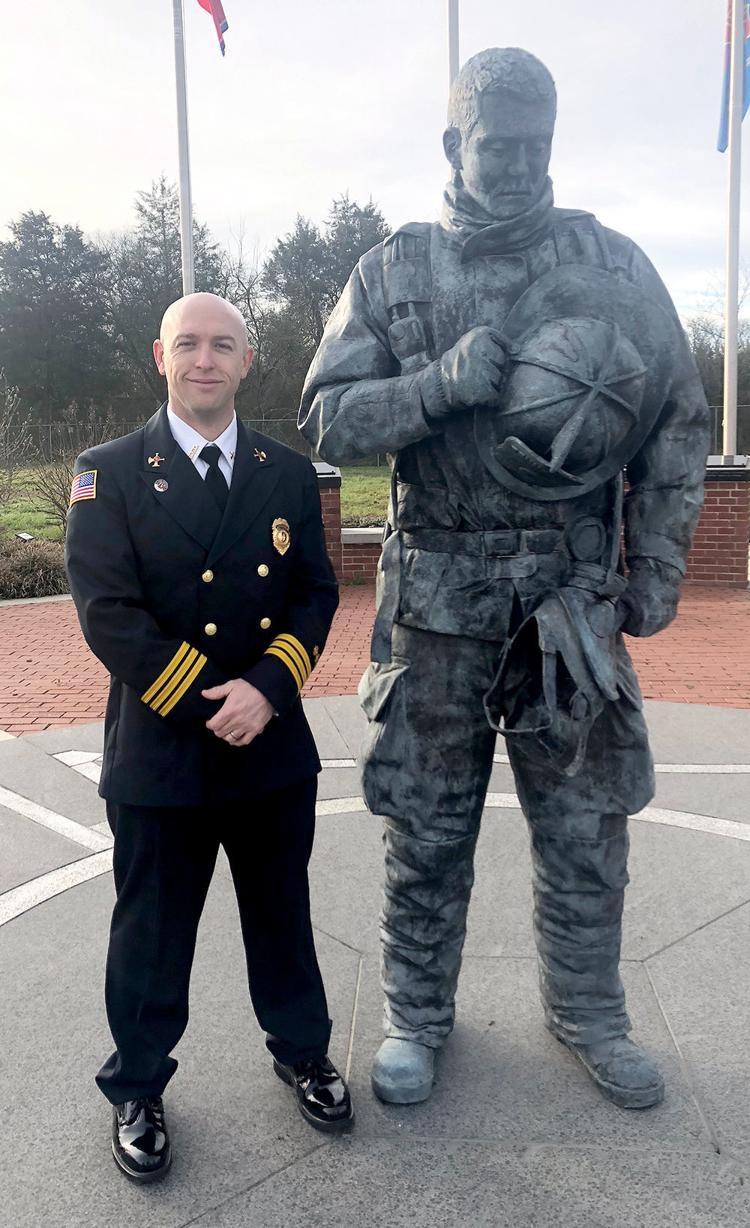 ROGERSVILLE — A Hawkins County firefighter has earned the honorific distinction of MIFireE, a title awarded by the Institution of Fire Engineers after meeting stringent admission requirements and criteria, including academic, professional and fire-service qualifications.
Dustin Housewright, a lifelong Hawkins County resident, served as Fire Chief for the Town of Surgoinsville from 2009-2015. He is currently the chairman of the Hawkins Co. Local Emergency Planning Committee, and, in his full-time job, serves as a Captain/Paramedic at Eastman's Fire Department.
Membership into the IFE confers the right to use the designation of MIFireE.
To meet membership requirements, a rigorous review of the applicant's educational background is conducted, and only once one has passed this review can they become an IFE member.
The Institution's objective is to promote, encourage and improve the science and practice of fire engineering including fire prevention and extinction.
The letters, MIFireE, indicate that a person has met the educational standards and are known as a member in good standing of the IFE. Linking educational requirements and experience to membership helps promote professionalism in the field.
Membership in the IFE cannot be purchased, it must be earned; one cannot just pay dues and join.
For the uninitiated, the IFE is a global non-profit organization devoted to fire protection issues, with branches in 23 countries. It was founded in 1918, and the US branch was established in 1996.
The membership roster for the IFE is a virtual "who's who", filled with knowledge and potential horsepower the organization can draw upon whenever needed. There is a great deal of experience in the IFE's ranks, and a great deal of that shared knowledge to be drawn upon.
Housewright holds an Associates in Public Safety and Bachelors in Fire Science Administration degrees and is currently working on his Masters.
"I also do part-time work including safety consulting and instructing fire, rescue and medical courses," he said.
In addition, he holds several certifications in various fire service areas, including Fire Officer IV (becoming the 47th person in Tennessee to obtain this certification), Fire Instructor II, Safety Officer and a Paramedic Instructor/Coordinator.
"What impresses me most about the IFE is the professional approach it takes, something rarely seen in many other organizations," he added. "It promotes professionalism in our field, not just by the activities it hosts, but by the educational requirements necessary to be a member. It promotes best practices in fire protection by sharing information designed to be challenged in an environment of evidence-based decision making. In addition, the MIFireE designation is closely aligned with the Chief Fire Officer (CFO) designation. The IFE actually has a reciprocity agreement in place with the Center for Public Safety Excellence (CPSE) for those individuals who earn the CFO designation to obtain the MIFireE designation through a reciprocity application."
Housewright said, "This journey would not have been possible without the continued support from my family".
In his spare time, he enjoys farming, spending time with his son and traveling.