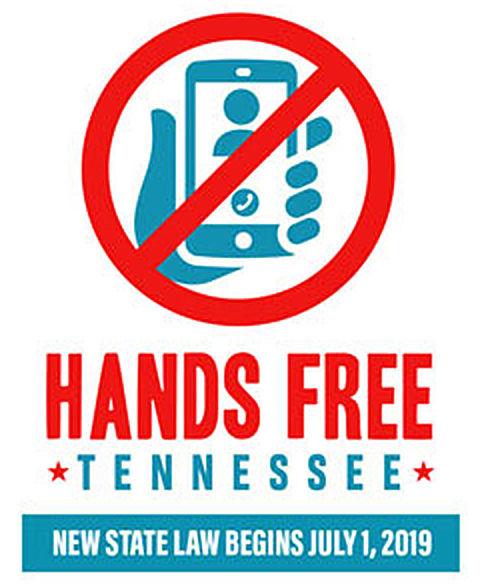 NASHVILLE — If you own and use a cell phone while in your vehicle, be forewarned — a new law goes into effect on July 1 that provides ticketed fines for not only texting and driving, but for holding and talking on the phone while driving.
Public Chapter #412, Tennessee's new "Hands Free" law, requires drivers to put down their phones and focus on the road.
The law makes it a ticketed violation for drivers to be observed by law enforcement officials:
• Holding a cell phone or mobile device with ANY PART of the body;
• Writing, sending, or reading any text-based communication;
• Reaching for a cell phone or mobile device that requires the driver to no longer be in a seated driving position or properly restrained by a seat belt;
• Watching a video or movie on a cell phone or other mobile device; and,
• Recording or broadcasting a video on a cell phone or mobile device.
According to state officials, in Tennessee in 2018, there were more than 24,600 auto accidents that involved drivers who were distracted because of cell phone/mobile device use.
On an average, more than 67 cell phone-distracted crashes occur every single day in the state, which also has the highest rate of distracted driver deaths in the nation, some five times the national average.
Here are the statistics from the Tenn. Dept. of Safety and Homeland Security for distracted driving crashes in northeast Tennessee from 2009-2019 to-date:
• Hawkins — 706;
• Hancock — 47;
• Hamblen — 813;
• Grainger — 193;
• Sullivan — 4,826; and,
• Greene — 1,768.
Statewide in the past 10 years, more than 209,000 distracted driving crashes have occurred. Those figures do not include crashes that happened on private property, parking lots, or those with less than $400 in damage, so the actual numbers could be significantly higher when those are taken into account.
Violations of the law are Class C Misdemeanors, which come with a moving traffic violation citation.
First- and second- time offenders will be fined $50; third-time offenders or higher, of if the violation results in a crash, will face $100 fines; while $200 fines will be assessed if the violation occurs in a work zone while workers are present, and in a marked school zone while flashers are in operation.
The law allows some exceptions, including for police officers, campus police and other safety officers, emergency medical technicians, paramedics and firefighters while on duty and in the discharge of their responsibilities; and, persons who have need to use the device to communicate with law enforcement, medical providers, fire departments, or other bonafide emergency service providers in the event of an actual emergency, whether man-made or naturally occurring, that threatens human life, health, or property.
It also does not apply to persons who are lawfully stopped or parked in their vehicles or who leave standing their vehicles.
A driver is permitted to use an earpiece, headphone device, or device worn on a wrist to conduct voice-based communication. The driver may use one button on a cell phone or mobile device to initiate or terminate voice communication. Voice-based communication may also be used to send a text message.
For more information, visit www.handsfreetn.com.